Aedes Ars Foix Castle Architectural Brick Model Kit
Tuesday 22nd June? Place your order within

hrs minutes

and select Next Day Delivery at the checkout.
Want it on
Aedes Ars Foix Castle Architectural Brick Model Kit (AED1010)
Aedes Ars Foix Castle
Approximate number of pieces: 8,250
Difficulty degree: 8/10
Sizes: 400 x 500 x 415mm
Scale: 1/170
These kits contain high quality ceramic pieces (which simulate the stones and the original materials), cardboard structure, glue, scenic material, and instructions.
Aedes Ars produce a wide range of building sets which are used for the scale reproduction of some historical monuments such as castles, churches, bridges, and lighthouses, (some are recognised World Heritage Sites), as well as diverse miniature buildings of typical country constructions.
The monument and its history
The Château de Foix is a castle which dominates the town of Foix in the French department of Ariège. An important tourist site, it is known as a centre of the Cathars. It has been listed in the XIX century as a monument historical by the French Ministry of Culture.
Built on an older 7th century fortification, the castle is known from 987. In 1002, it was mentioned in the will of Roger I, Count of Carcassonne, who bequeathed the fortress to his youngest child, Bernard. In effect, the family ruling over the region were installed here which allowed them to control access to the upper Ariège valley and to keep surveillance from this strategic point over the lower land, protected behind impregnable walls. In 1034, the castle became capital of the County of Foix and played a decisive role in mediaeval military history. During the two following centuries, the castle was home to Counts with shining personalities who became the soul of the Occitan resistance during the crusade against the Albigensians. The county became a privileged refuge for persecuted Cathars.
The castle, often besieged (notably by Simon de Montfort in 1211 and 1212), resisted assault and was only taken once, in 1486, thanks to treachery during the war between two branches of the Foix family.
From the 14th century, the Counts of Foix spent less and less time in the uncomfortable castle, preferring the Governors' Palace (Palais des gouverneurs). From 1479, the Counts of Foix became Kings of Navarre and the last of them, made Henri IV of France, annexed his Pyrenean lands to France. As seat of the Governor of the Foix region from the 15th century, the castle continued to ensure the defense of the area, notably during the Wars of Religion. Alone of all the castles in the region, it was exempted from the destruction orders of Richelieu (1632-1638).
Until the Revolution, the fortress remained a garrison. Its life was brightened with grand receptions for its governors, including the Count of Tréville, captain of musketeers under Louis XIII and Marshal Philippe Henri de Ségur, one of Louis XVI's ministers. The Round Tower, built in the 15th century, is the most recent, the two square towers having been built before the 11th century. They served as a political and civil prison for four centuries until 1862.
Since 1930, the castle has housed the collections of the Ariège départemental museum. Sections on prehistory, Gallo-Roman and mediaeval archaeology tell the history of Ariège from ancient times. Currently, the museum is rearranging exhibits to concentrate on the history of the castle site so as to recreate the life of Foix at the time of the Counts.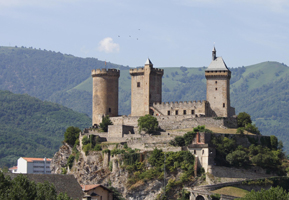 Here at Hobbies we aim to dispatch all in stock items on the same working day, if ordered by 2:00pm. UK mainland orders will be delivered by either Royal Mail or DHL.
DHL normally advise an estimated delivery slot via SMS or Email notification. Please see below for shipping charges.
| UK Shipping | Charge Rate |
| --- | --- |
| Plans, Fretsaw Blades, Flags, Decals and Vinyl Lettering | £1.95 |
| Orders Up To £150 | £3.95 |
| Orders Over £150 & Hobbies Catalogues (UK Only) | Free Delivery |
| Royal Mail TRACKED | £5.99 |
| Maximum Postage (Wood Packs, Panels and Flammable Goods) | £5.95 |
| Express Next Working Day & Nominated Delivery (Placed Before 2pm) | £7.95 |
| Saturday Courier | £11.95 |

Please note: Orders to surcharge areas may incur an additional cost if a parcel is oversized, overweight or contains flammable goods. We will contact you before posting. Please see Postage for more information regarding surcharge areas.

We also deliver all over the world. For information regarding overseas orders please see Postage for further details.
So why buy from Hobbies?
Hobbies have built a reputation for providing first class goods and excellent service, with over 120 years of experience supplying model makers, machinists, craftsman & enthusiasts alike. We pride ourselves on our worldwide reputation for high quality customer service and we are always happy to provide help and support, from advice with choosing what product to buy to after sales support, such as guidance with the building process of a model kit. Our customer support and service is comprehensive, and we won't disappear after you have made a purchase. Not convinced? Then just ask one of our many thousands of satisfied customers, both here in the UK and overseas.
We believe model making is not just a pastime, but also an experience to share with friends, siblings, children and grandchildren. Hobbies stock a diverse range of hobby kits and accessories, from Revell kits to dolls houses, model boat kits to balsa aircraft. Whatever your age or experience level, you'll be able to find something to pique your interest at Hobbies.
If there is anything you need help with, or even just a general enquiry, then please Contact Us.