Aedes Ars Bodiam Castle Model Kit Architectural Model Kit
Tuesday 22nd June? Place your order within

hrs minutes

and select Next Day Delivery at the checkout.
Want it on
Aedes Ars Bodiam Castle Model Kit Architectural Model Kit (AED1014)
Create you own beautifully detailed, scale model of Bodiam Castle in East Sussex, England.
Length: 440mm
Width: 320mm
Height: 140mm
Scale: 1:180
These kits contain high quality ceramic pieces (which simulate the stones and the original materials), cardboard structure, glue, scenic material, and instructions.
Aedes Ars produce a wide range of building sets which are used for the scale reproduction of some historical monuments such as castles, churches, bridges, and lighthouses, (some are recognised World Heritage Sites), as well as diverse miniature buildings of typical country constructions.
The castle with its great tower constructions comprises of approximately 5850 individual parts. The substructure is made from printed cardboard, which needs to be cut, stuck and glued. Then the many small ceramic components such as bricks, tiles etc are glued to this "shell". The Aedes Ars Bodiam Castle model kit offers a wealth of details. The colour and type of components are chosen by Aedes Ars so that the finished model looks just like the original
A little history of Bodiam Castle
Bodiam Castle is a 14th-century moated castle near Robertsbridge in East Sussex, England. It was built in 1385 by Sir Edward Dalyngrigge, a former knight of Edward III, with the permission of Richard II, ostensibly to defend the area against French invasion during the Hundred Years' War. Of quadrangular plan, Bodiam Castle has no keep, having its various chambers built around the outer defensive walls and inner courts. Its corners and entrance are marked by towers, and topped by crenellations. Its structure, details and situation in an artificial watery landscape indicate that display was an important aspect of the castle's design as well as defence. It was the home of the Dalyngrigge family and the centre of the manor of Bodiam.
Possession of Bodiam Castle passed through several generations of Dalyngrigges, until their line became extinct, when the castle passed by marriage to the Lewknor family. During the Wars of the Roses, Sir Thomas Lewknor supported the House of Lancaster, and when Richard III of the House of York became king in 1483, a force was despatched to besiege Bodiam Castle. It is unrecorded whether the siege went ahead, but it is thought that Bodiam was surrendered without much resistance. The castle was confiscated, but returned to the Lewknors when Henry VII of the House of Lancaster became king in 1485. Descendants of the Lewknors owned the castle until at least the 16th century.
By the start of the English Civil War in 1641, Bodiam Castle was in the possession of Lord Thanet. He supported the Royalist cause, and sold the castle to help pay fines levied against him by Parliament. The castle was subsequently dismantled, and was left as a picturesque ruin until its purchase by John Fuller in 1829. Under his auspices, the castle was partially restored before being sold to George Cubitt, 1st Baron Ashcombe, and later to Lord Curzon, both of whom undertook further restoration work. The castle is protected as a Grade I listed building and Scheduled Monument. It has been owned by The National Trust since 1925, donated by Lord Curzon on his death, and is open to the public.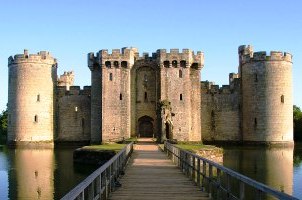 Here at Hobbies we aim to dispatch all in stock items on the same working day, if ordered by 2:00pm. UK mainland orders will be delivered by either Royal Mail or DHL.
DHL normally advise an estimated delivery slot via SMS or Email notification. Please see below for shipping charges.
| UK Shipping | Charge Rate |
| --- | --- |
| Plans, Fretsaw Blades, Flags, Decals and Vinyl Lettering | £1.95 |
| Orders Up To £150 | £3.95 |
| Orders Over £150 & Hobbies Catalogues (UK Only) | Free Delivery |
| Royal Mail TRACKED | £5.99 |
| Maximum Postage (Wood Packs, Panels and Flammable Goods) | £5.95 |
| Express Next Working Day & Nominated Delivery (Placed Before 2pm) | £7.95 |
| Saturday Courier | £11.95 |

Please note: Orders to surcharge areas may incur an additional cost if a parcel is oversized, overweight or contains flammable goods. We will contact you before posting. Please see Postage for more information regarding surcharge areas.

We also deliver all over the world. For information regarding overseas orders please see Postage for further details.
So why buy from Hobbies?
Hobbies have built a reputation for providing first class goods and excellent service, with over 120 years of experience supplying model makers, machinists, craftsman & enthusiasts alike. We pride ourselves on our worldwide reputation for high quality customer service and we are always happy to provide help and support, from advice with choosing what product to buy to after sales support, such as guidance with the building process of a model kit. Our customer support and service is comprehensive, and we won't disappear after you have made a purchase. Not convinced? Then just ask one of our many thousands of satisfied customers, both here in the UK and overseas.
We believe model making is not just a pastime, but also an experience to share with friends, siblings, children and grandchildren. Hobbies stock a diverse range of hobby kits and accessories, from Revell kits to dolls houses, model boat kits to balsa aircraft. Whatever your age or experience level, you'll be able to find something to pique your interest at Hobbies.
If there is anything you need help with, or even just a general enquiry, then please Contact Us.